IP Phones Designed for FreePBX
Sangoma S-Series IP phones are the only IP phones on the market specifically designed to work with FreePBX phone systems. 
Featuring ZeroTouch auto provisioning, S-Series phones can be quickly and easily used right out of the box. All you need to do is plug them into an Internet connection, wherever you are in the world, and the redirection service will automatically pair and configure the phone with the phone system. This makes life easier for IT administrators and allows end users to setup their own phones within seconds, including remote users. 
Also, when you pair S-Series phones with FreePBX, the EndPoint Manager module is automatically activated, for the life of your phone system.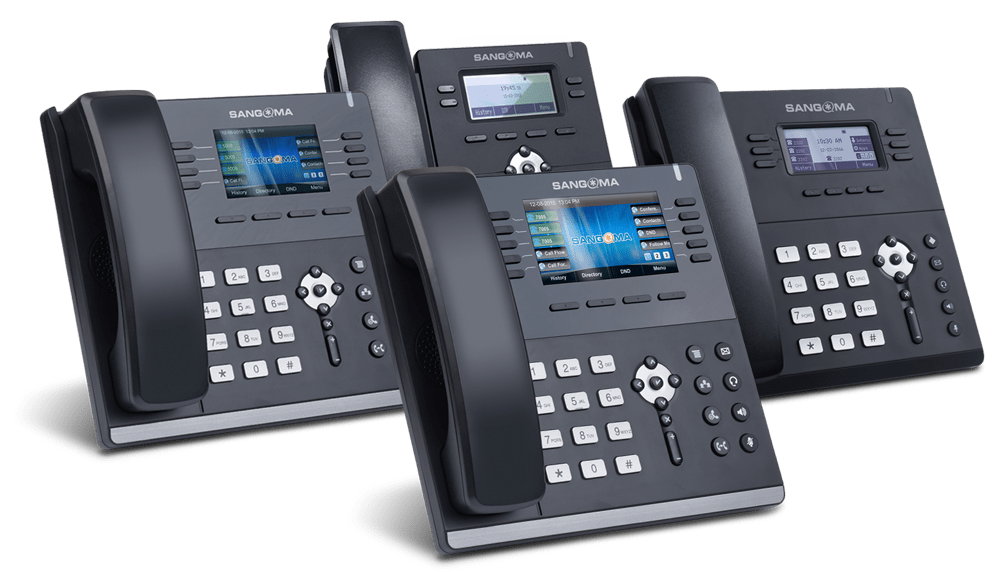 Intuitive and Easy to Deploy Mobile Softphone
Allow staff to work remotely using the Sangoma Connect Mobile app for iOS and Android devices. Employees can enjoy voice and Sangoma Meet multi-party video collaboration, using their business extension, while keeping their personal device information private.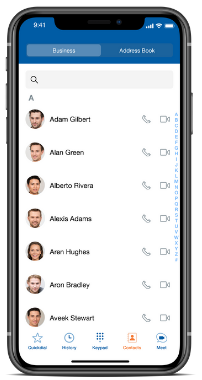 Explore Sangoma's value-based phones for essential features without sacrificing on functionality.
Sangoma's value-based P-Phones deliver the essential features you need at the best price point. Perfect for manufacturing, education, and retail environments, these IP phones feature auto-provisioning across Sangoma's product portfolio, including Switchvox, PBXact, FreePBX, and Asterisk.
Zero-Touch Auto Provisioning
S-Series phones automatically provision using Sangoma's redirection cloud server, which authenticates S-Series phones and redirects them to the PBXact/FreePBX phone system.
Each S-Series phone is factory imaged with a unique serial key. This prevents hackers from contacting the redirection server, pretending to be an S-Series phone, and trying to register with the MAC address.
Customize your phone with the applications you need where you want them. This allows users to improve efficiency and, ultimately, their productivity.
For realtors, secretaries, and receptionists, the EXP100 sidecar adds extra BLF (Busy Lamp Field) buttons to S-Series IP phones for extra functionality.
Power S-Series phones directly from the Internet cable connection, rather than trying to search for a wall socket for power. This allows you the freedom to place your phones wherever you want.
S-Series phones support TLS/SRTP encryption, so hackers cannot try and intercept the call path or listen in to the call.
Advanced Phone Applications
S-Series phones feature PhoneApps, which are on-board applications controlled on the phone display without the need to dial in feature codes.  
Connect to the corporate phone system from remote locations securely with built-in VPN. 
| | | | | |
| --- | --- | --- | --- | --- |
| | S705 | S505 | S406 | S206 |
| Main Display | 4.3 inch, color | 3.5 inch, color | 2.7 inch, graphical LCD with backlight | 192x64 pixel graphical LCD with backlight |
| Line Registrations | 6 | 4 | 3 | 2 |
| Rapid Dial/Busy Lamp Field Keys | Up to 9 keys, scrolling 45 contacts | Up to 7 keys, scrolling 35 contacts | Up to 5 keys, scrolling 25 contacts | Up to 1 key, scrolling 1 contact |
| Ethernet LAN and PC Port | 10/100/1000 Base-T | 10/100/1000 Base-T | 10/100/1000 Base-T | 10/100 Base-T |
| Advanced Phone Applications | | | | No |
| Bluetooth & WiFi | | No | No | No |
| Power over Ethernet (PoE) | | | | |
| Expansion Module (Sidecar) (Optional) | | | No | No |
| Electronic Hook Switch (EHS) Module (Optional) | | | | No |
S705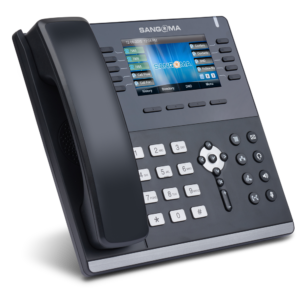 4.3 inch, Color display
Line Registrations: 6
Rapid Dial/Busy Lamp Field Keys: Up to 9 keys, scrolling 45 contacts
Ethernet Lan & PC Port: 10/100/1000 Base-T
Advanced Phone Applications
Bluetooth & WiFi
Power over Ethernet (PoE)
Expansion Module (Sidecar, Optional)
Electronic Hook Switch (EHS) Module (Optional)
S505
S406
S305
S206
Looking for a Desktop or Mobile Softphone designed for FreePBX?
Zulu UC is desktop and mobile integration for businesses using PBXact and FreePBX phone systems, delivering productivity and collaboration tools through a single application.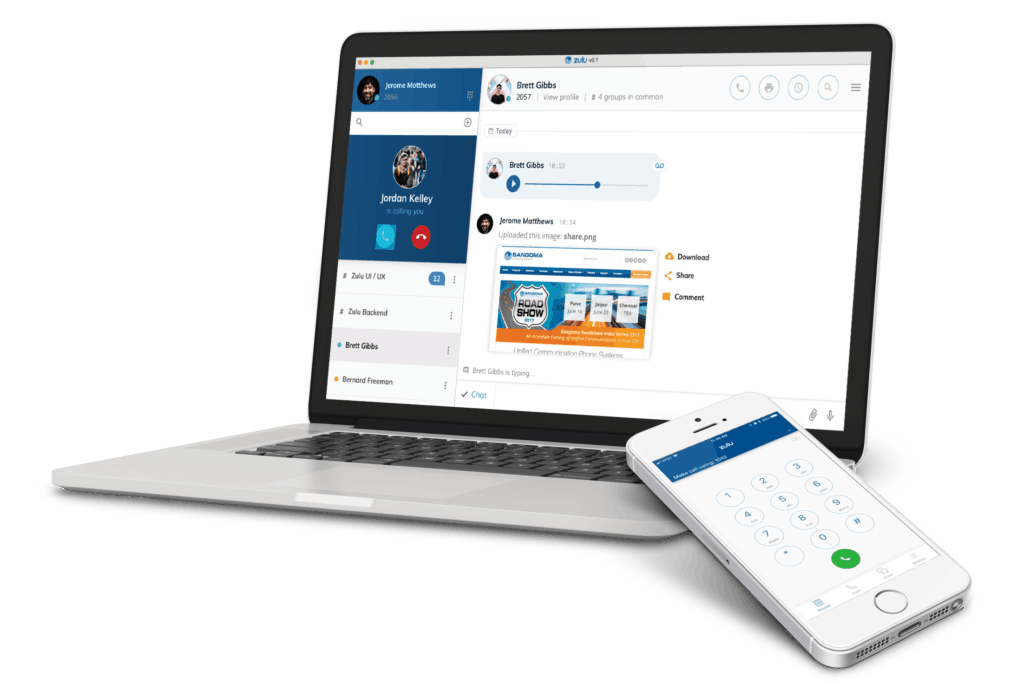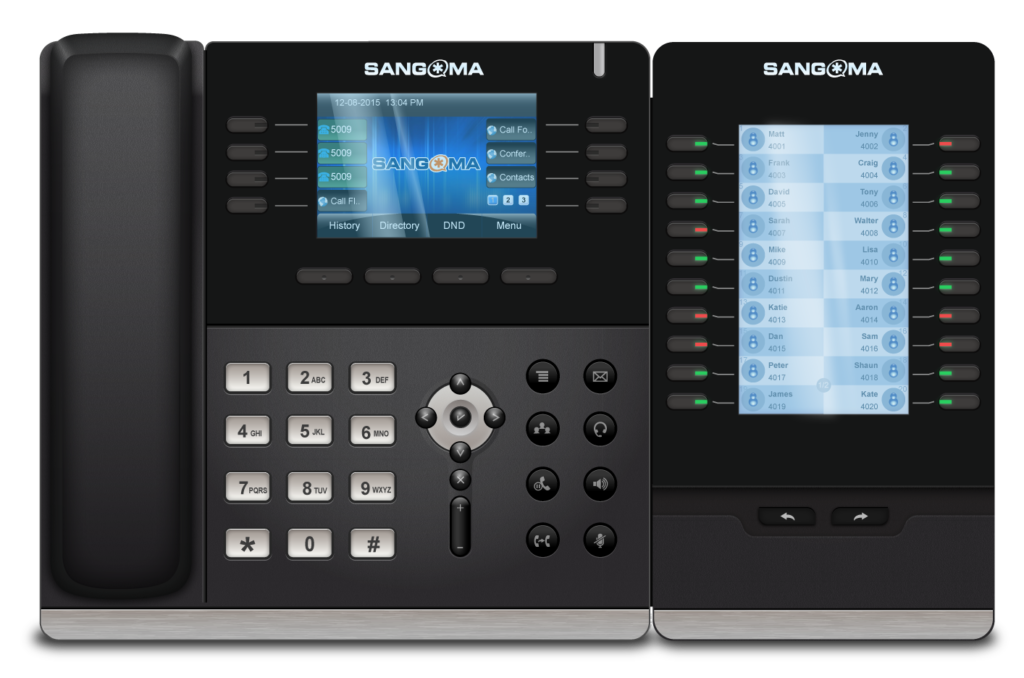 Need more BLFs to provide faster access to large groups of extensions? Perfect for receptionists, secretaries, and those in the real estate or hospitality industries, the EXP100 sidecar is the perfect upgrade to the S505 or S705 IP phone, adding up to an extra 40 buttons for contacts and functionality.
Designed to work with FreePBX phone systems, the DC201 DECT phone package provides SMBs with high quality, wireless DECT that integrates into your phone system.
The DC201 DECT Base + Handset package supports up to 20 users, giving your staff and colleagues the freedom and efficiency of wireless.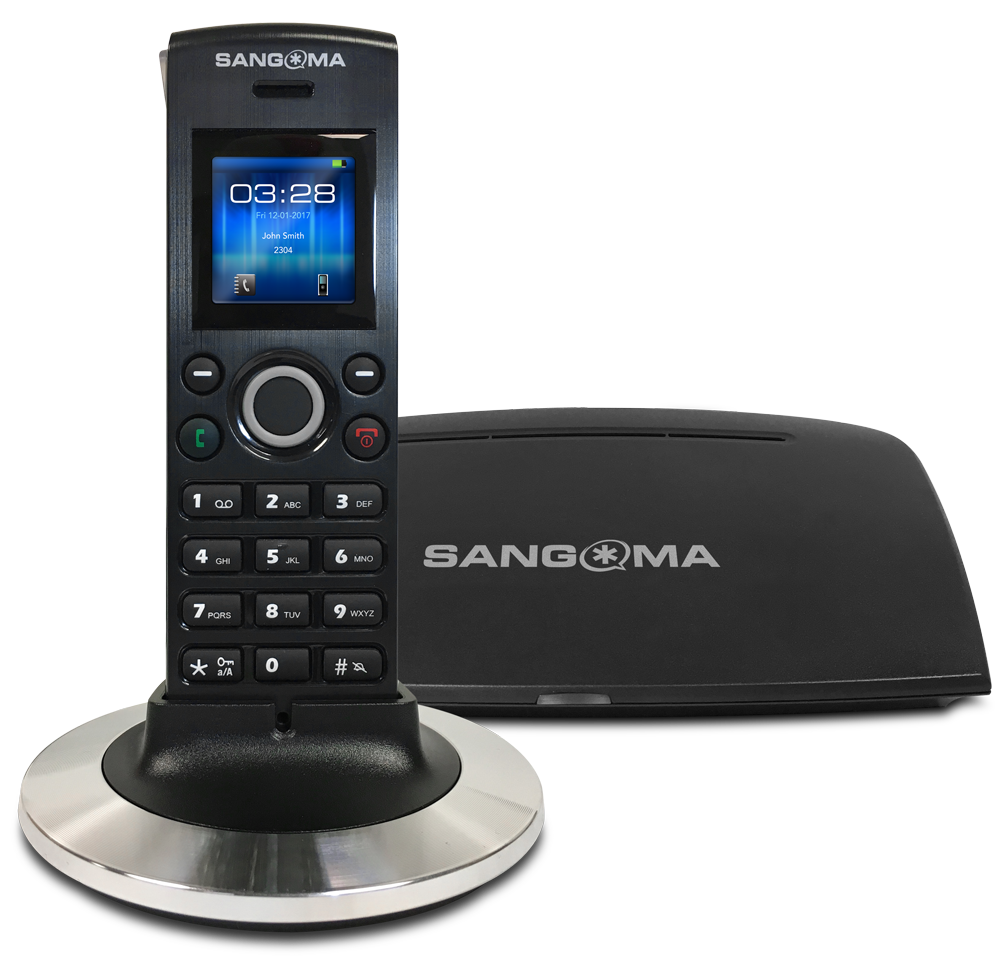 Meet the PhoneApps family
S-Series PhoneApps includes all the following individual applications, all in one package!
Sangoma wireless headsets feature superior sound quality with dedicated DECT technology, superior call handling with up to 325 feet of range, as well as all-day battery life. 

Designed for the closest integration with FreePBX and Sangoma hardware, choose between the H10,a dedicated desktop IP phone headset, and the H20, which offers support for the Zulu Desktop softphone via USB connection.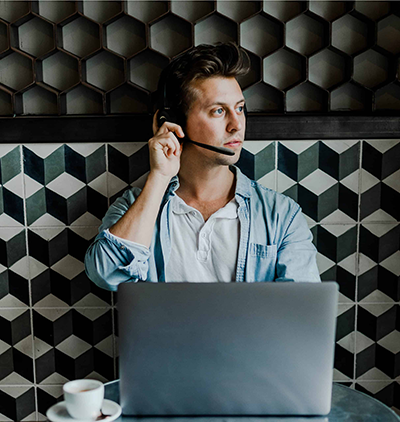 What makes Sangoma PhoneApps so different from other PBX vendors?
PhoneApps are the only software suite on the market that integrates advanced features, not only for Sangoma IP phones, but for many third-party manufacturers. Some vendors offer their own version of our PhoneApps, but they are only compatible with their own PBX and IP phones. This locks you down or forces you to buy new hardware.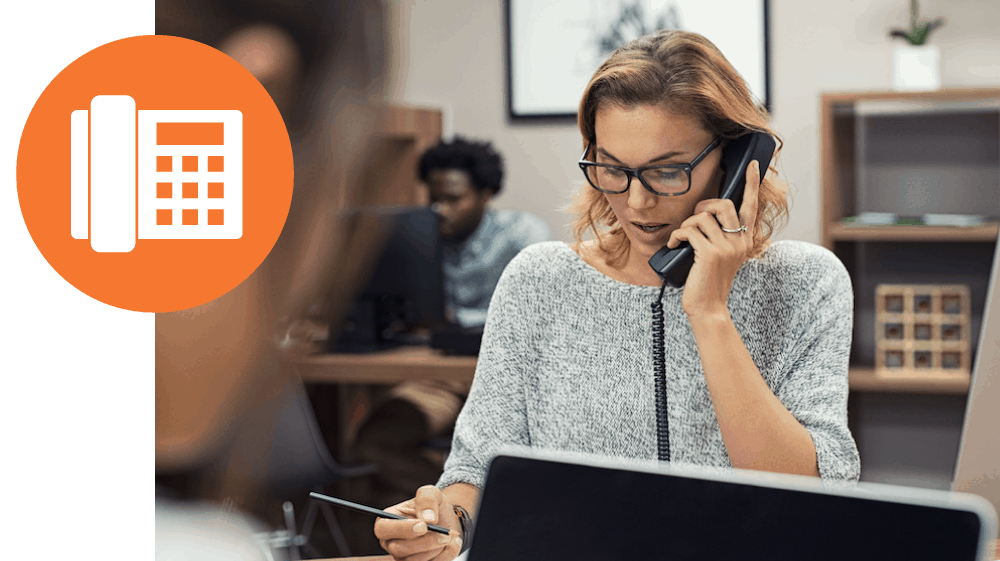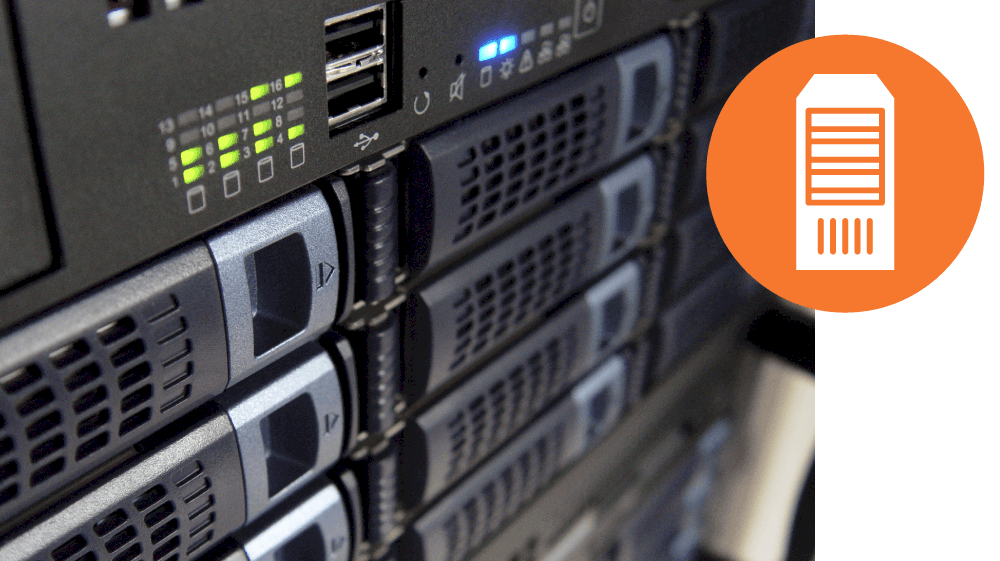 PhoneApps are installed on IP Phones, but completely controlled by the PBX (PBXact or FreePBX). This keeps the intelligence of each PhoneApp with the PBX, something very unique that other vendors don't do. Think of PhoneApps as a web client that resides on the IP phone, with the PBX acting as the web server. The user navigates the phone display to use the PhoneApps, but the changes are actually occurring at the PBX.
For example, the Do Not Disturb app enables the DND status condition for that user directly on the PBX. So even if the phone loses network connectivity, the status condition remains in place on the PBX.