Recent Videos

Sangoma s-Series IP Phones: Phones Designed with the User in Mind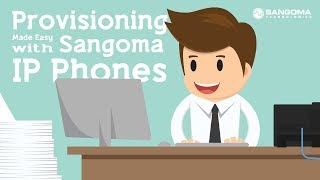 Provisioning Made Easy with Sangoma IP Phones
Benefits of Being a Sangoma Certified Reseller
PBXact Cloud: Feature Overview
Dialogic Products by Sangoma Introduction to Sangoma University SIPStation SIP Trunking Service from Sangoma WEBINAR: What's New in FreePBX 14
Sangoma s-Series IP Phones: Phones Designed with the User in Mind

Designed to work with FreePBX and PBXact, Sangoma IP phones are so smart you can quickly and easily use them right out of the box. Sangoma offers a wide range of IP phones, from the cost-effective, entry level model all the way to an Enterprise IP phone with Wi-Fi and Bluetooth. Each model features industry standard PoE, full duplex speakerphones, dual Ethernet Ports, multi-way conference calling, high definition voice quality and they're VPN capable. Sangoma IP phones offer Zero-touch Provisioning and a full suite of PhoneApps, a bundle of advanced applications, which install directly onto your IP Phone, converting all your complicated features into easy-to-use visual applications, which you control, directly from the phone's display!

Provisioning Made Easy with Sangoma IP Phones

Meet Jim. Jim manages his company's IT Department and phone system with FreePBX, the world's most prevalent open-source PBX system. Jim also takes advantage of Sangoma's Zero-touch Provisioning with the EndPoint Manager module and Sangoma's IP Phones. It makes set up incredibly easy! Now, give this video a watch and discover how FreePBX and Sangoma IP Phones work so seamlessly together. And visit us online today to discover how you and your company can save valuable time by connecting Sangoma IP phones to your FreePBX or PBXact system!

Benefits of Being a Sangoma Certified Reseller

Provide your customers with outstanding VoIP and Unified Communications quality products that deliver industry-leading value. As an Empowered by Sangoma Partner, you'll get the help you need to grow your business and the incentives you want to make it easy to win sales with exceptional margins. Sangoma Partners get priority access to a full range of high-quality products including: PBXact, FreePBX, PBXact Cloud, SIPStation SIP Trunking service, Session Border Controllers, VoIP Gateways, PSTN interface cards and FAXStation FoIP service. With Sangoma, you can sell the products and services that match your expertise, appeal to your existing customers/partners and grow your business faster. Whether you are an established telecoms reseller, a new business looking to enter the market or an IT reseller looking to break into voice, we have a flexible partner program designed to fit your needs. Apply to become a Sangoma Reseller today!

PBXact Cloud: Feature Overview

PBXact Cloud is designed for small-to-medium businesses looking for a feature-rich phone service for their office(s), with built-in productivity and collaboration features, accessible from anywhere you are, on any device you choose. Integrated advanced features provides your callers with a great experience, from a professional greeting, automatic routing based on time-of-day and also options to be called back if your phone lines are tied up. Get your PBXact Cloud hosted system up in running in just minutes today!

Dialogic Products by Sangoma

Sangoma, a trusted leader in delivering Unified Communications solutions for SMBs, Enterprises, OEMs, and Service Providers, both on-premises and in the cloud, announced the acquisition of all key assets of the Converged Communication Division from Dialogic Corporation on January 9th, 2018. The CCD division offers a full line of gateways and interface boards, all of which are now part of the Sangoma family of UC solutions. Sangoma offers the CCD customers, partners, and employees the best possible combination of product and services continuity.

Introduction to Sangoma University

Sangoma University endeavors to provide a diverse range of training solutions. Online Technical and Sales Training Videos provide easy, self-paced instructions on Sangoma products, which allow for excellent visibility for people interested in Sangoma solutions. Classroom Technical Training provides direct and in-depth training that ensures full comprehension of the product, in addition to having one-on-one access to go beyond just knowledge and strive into learning from other's experiences. In this quick introduction video, we'll detail access, web navigation, curriculum, certifications, events and purchasing. Where do you find Sangoma University? Click the View More button!

SIPStation SIP Trunking Service from Sangoma

With SIPStation SIP Trunking from Sangoma, companies ranging from small businesses to medium enterprises benefit from feature-rich telephony services, including SMS & fax compatible high-volume trunks, international calling and inbound & toll free numbers. Watch this video and discover more great features like the ability to share your voice services across multiple locations, reducing monthly charges and offering more robust failover capabilities. A 21-Day Free Trial, no obligation / no credit card required, of SIPStation is available at https://wiki.freepbx.org/display/ST/Free+Trial+Setup Click the View More button to start your service today!

WEBINAR: What's New in FreePBX 14

It's an exciting time here at Sangoma as we have just released the latest version of the world's most popular open source PBX, FreePBX 14. Our team has worked very hard to provide you with not only major improvements, but also brand new features that we know you'll enjoy using. In this webinar, you'll discover everything new inside FreePBX 14 including new operating system bringing increased performance, protecting your system with automatic security updates, upgrading now built into the web GUI, timezone and language improvements for even better world-wide support, calendar integration and what this can do for you and a redesigned User Control Panel (UCP) for an amazing user experience. Download FreePBX 14 today!