A year ago, the words of rock legend David Bowie rang in my head as the acquisition of Digium by Sangoma was announced. "Ch-ch-ch-ch-changes, turn and face the strange ch-ch-ch-changes" indeed summed up how I was feeling in the moment.
When you initiate changes yourself, it's pretty easy to adapt since it's a wanted change. However, when it's unexpected or unplanned, it can be difficult and sometimes annoying until you step back and begin understanding the reasoning behind it. I've had to adapt to many changes this past year including a new boss, new co-workers, and new processes/ procedures. After the dust settled, I began to understand better that for Digium to continue to grow and remain successful, a change was necessary… which brings me to AstriCon.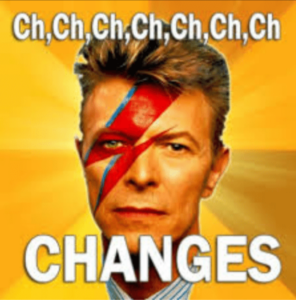 AstriCon is the event for open source users and the open source community. Open source software is flexible and agile, allowing developers to create unique solutions, which the community can then build upon. That's what keeps Asterisk growing. As someone who has been part of AstriCon since 2006, I can say that AstriCon had started falling into a "rinse and repeat" mode. Becoming routine which ultimately leads to dull, predictable, and uninteresting. And, honestly, the attendance numbers were starting to indicate a change was necessary. Unlike Asterisk, we were far from agile. As a team (which included key software engineers, long-term Digiumites, and key execs), we determined a "re-boot" was necessary. Thus the changes to AstriCon 2019.
In order to improve, you have to do things differently. Sometimes those improvements are not readily seen at first. There have been several instances within the Asterisk community when changes were made that caused some heartburn but ultimately led to improvements in Asterisk. Two examples come to mind. Code reviews which were a very drastic process shift – people were initially against it, but through that, we gained better code quality and a more stable Asterisk. The second, chan_pjsip, which was a leap into a new SIP implementation but through it we've gained new features to make things easier for users such as outbound registration line support, and new functionality such as video conferencing. These things would not have been possible to reasonably do with chan_sip.
AstriCon 2019 is going to be different from what attendees have experienced in the past. While there won't be as many open source tracks and there are business tracks, the key areas will remain the same: content, collaboration and networking opportunities with like-minded open source enthusiasts. Change is hard, but embracing it, like I have, will bring rewards.
If you are on the fence about attending AstriCon, I encourage you to take a leap of faith and join us. We need our community to attend and help us with feedback as we work to reinvent AstriCon with you in mind. We want to know what works, what doesn't work, what you like, and what you'd like to see in the future. Don't hesitate to let us know.