Now includes UCP for Endpoint Manager Module
---
EndPoint Manager
$149.00 for 25 year license (Included Free of Charge when used with Sangoma Phones)
With the commercially-supported Sangoma PBX EndPoint Manager, you can use the GUI interface to directly auto-provision & configure over 300 popular desk phones, wireless phones, door phones, overhead paging devices, gateways and specialty devices from manufacturers including: Aastra, Algo, AND, Audiocodes, Cisco, Cyberdata, Digium, Grandstream, HTek Mitel, Obihai, Panasonic, Polycom, Sangoma, Snom, Xorcom & Yealink. Includes the UCP for EPM module that allows end users to change any buttons that were set up for their phone by the Endpoint Manager system admin. An end user's changes would then apply to his or her own phone as an override of the admin-created template.
For a complete list of supported phones click here.
Commercially support EPM with ongoing support and development.
Per Brand Templates– For each type of device you can create one or more templates that can be used to generate configuration files.

Manage the devices on your network 100% from the GUI.
Provision via any protocol your phone supports FTP, TFTP or HTTP
Create New Templates, Import, Export Edit
Provide Default Templates for each device on your network
Use templates for individuals or share across groups of phones.
BLF Key Substitution for substituting a users extension when apply the same template to multiple users
Easily Program Phone Keys & Button Assignments with drag and drop enabled templates.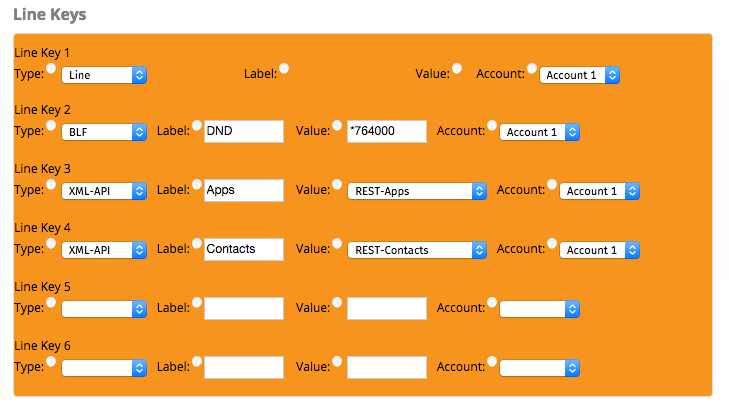 Image Management- upload images for use in templates that support phone side images.
Define Global Settings- Define Global Settings that EPM will use for all templates, such as external and internal IP addresses of your PBX.
Extension Mapping- Map your extensions to a specific MAC address, and assign a template.
Basefile Edits- for advanced users, allows full control over all settings, including those defined by the default settings, that are not over written with module upgrades.
Firmware Management- allows you to choose which firmware to load on a per device/template basis, valuable for testing new firmware.