A few weeks ago we pushed out the first beta release of FreePBX 13.  This beta was primarily pushed out as a manually install tarball and beta distro release for our advanced users. These community members and our internal testers have been testing and ironing out bugs to allow expansion to a wider audience. Our desire is to be as stable as possible even in beta for our community.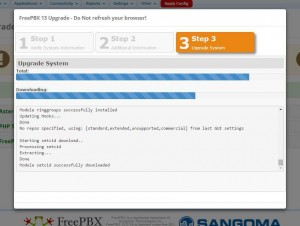 Two weeks ago we did a soft launch of our GUI Update utility.  This allows anyone running  FreePBX 12 to upgrade to 13 by way of the FreePBX UI. If you are running FreePBX 12 you can go in to Admin -> Module Admin and click check online.

Keep in mind that we have done our best to make sure this is safe enough for production use but we cannot account for all use cases. There are likely still bugs unaccounted for and you may be the one to find them. Before updating please make a backup. As a BETA this is not recommended for production use.
We put a heavy focus on the core open source code that is FreePBX. If you use any of our premium add on modules to enhance the FreePBX experience, they may not be fully functional.  If you use commercial modules update with caution.
Please file a ticket for any bugs you find at http://issues.freepbx.org
Please give feedback and feel free to ask questions on our forums at http://community.freepbx.org
Thank you for using FreePBX