---
High Availability Disaster Recovery
$1500 for 25 year license
FreePBX HA is a commercially developed High Availability solution that has reworked the FreePBX platform to integrate DRBD, Cluster Manager and Pacemaker. This enables automatic mirroring and failover between two FreePBX Systems. Your phones and devices are registered to a floating IP address, so the failover between systems will be transparent to them. Your SIP Trunks will register to the active node, and if utilizing a PSTN Failover Appliance (optional), your T1 or Analog lines will be directed to the active node as well. Then when the primary PBX is repaired or recovers, you can switch back to the primary FreePBX node in just seconds.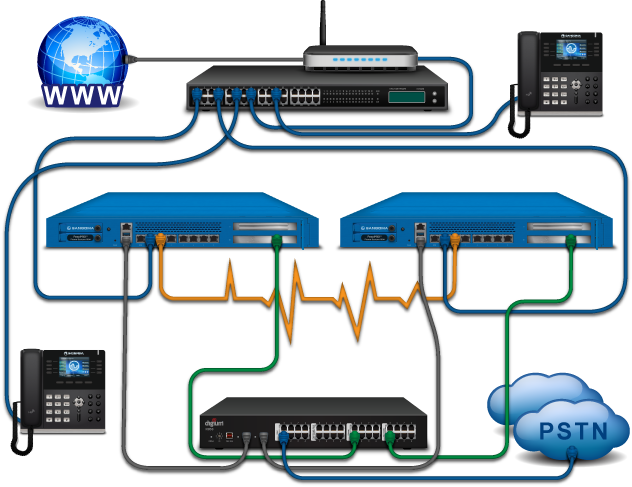 Setup and configuration of FreePBX HA is done in the FreePBX GUI, which you can also use as an online management tool to easily switch between nodes.

For more information about High Availability Disaster Recovery, please click this link:
http://wiki.freepbx.org/display/FCM/FreePBX+High+Availability
High Availability Appliances
Our new FreePBX HA Appliances provide out-of-the-box support for FreePBX High Availability (HA) solutions. If your voice communications are mission critical, and data, revenue, productivity and reputation are at stake you need a FreePBX HA Appliance!
Each HA Appliance is shipped with the latest FreePBX Distro already installed. The appliances are pre-configured and licensed with FreePBX HA and two hours of tech support for additional assistance once delivered.
FreePBX HA 1000 Appliance Bundle
This bundle includes two of our popular FreePBX 1000 Appliances pre-configured for High Availability. Each PBX is powered with:
Intel Xeon E3-1200 Quad Core Processor
Dual 240GB SSD Drives with Raid
16GB of Memory
7 Onboard GB Network Ports
IPMI for Fencing in HA
Support Up to 1000 Users