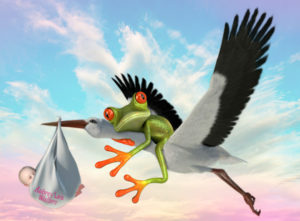 Aubrey Lea Walters
PLAYER 3 HAS ENTERED THE GAME
Schmooze Com Inc/FreePBX would like welcome the latest team member, Aubrey Lea Walters to the FreePBX Family. In her role with FreePBX, Miss. Walters will be prioritizing the day to day, as well as the night to night responsibilities of FreePBX Developer and Schmooze Co-Founder Bryan Walters aka "GameGamer43". Aubrey's position although considered an entry level position is expected to require years to develop.
In a related note we expect to be releasing the FreePBX Baby Monitor Module™, and Diaper Notification Pro™ phone app within the next few weeks. We have also reached out to begin the ground work of working with Fisher-Price to get their latest models added to the Commercial EPM.
The entire FreePBX Team is sending loads of best wishes to the little princess and first time parents and hope the best for her upcoming future.
The Schmooze Com/ FreePBX Team