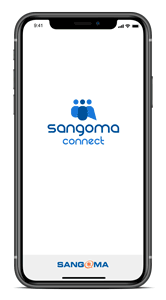 We know that right now, communication is key. We also know that you need to be able to work where it makes the most sense for you, so mobility is a must. The latest milestone in our mission to help you communicate more effectively is the next-generation mobile softphone app for FreePBX and PBXact. It's called Sangoma Connect Mobile, and it is now available to download!
Sangoma Connect Mobile combines the best of our existing solutions with new core mobile technologies to provide a greater communication experience for calling and collaborating with coworkers.
Sangoma Connect Mobile provides rich voice and video calling for PBXact and FreePBX, on iOS and Android devices. We've made the onboarding experience very simple for system administrators to provision, and for users to install:
Administrators: enable Connect users via the User Manager within the PBXact or FreePBX admin interface. That automatically sends an invitation email message to each user.
Users: open their invitation email and follow simple instructions to download the app from the app store, then click a 'magic log-in link' in the email to immediately configure – no need for details like hostnames, extension numbers, or passwords.
And that's it! It just works. Issues like certificate management, which can be a manual process with other apps, are handled automatically.
Features Included:
Blind and assisted transfer
3-way calling
Contacts and favorites – including BLF
DND with scheduling for out-of-office convenience
Another great feature is that we've integrated Sangoma Meet, our award-winning video conferencing platform within Sangoma Connect Mobile, making it super simple to create or join a multi-party video conference.
How to Get It
Sangoma Connect Mobile is included, free-of-charge, for all new and existing PBXact systems.  It is also free-of-charge to FreePBX customers with an active Zulu license, for the same amount of users already purchased. Simply perform an update on your system, and Sangoma Connect will be available within the User Management Module.
Purchasing Options
FreePBX customers, without Zulu, wishing to purchase a Sangoma Connect Mobile license can do so from the Sangoma Portal Store.  We have integrated Sangoma Connect Mobile with Zulu Desktop so that customers  can take advantage of even further collaboration tools for your MacOS or Windows computer. Simply purchase the Zulu license from the portal store and choose to use Sangoma Connect Mobile, or both! If needed, here are some helpful instructions on how to purchase a license and how to install on your FreePBX system.
Download the Mobile Client
End users can download the iOS or Android app, for free, by searching for 'Sangoma Connect' in the respective app stores. A direct download link is also available within the invitation email end-users receive. Here is information on how to use the app.
For system administrators, click here for setup instructions.
Stay tuned because, as mentioned, this is simply the beginning of our efforts in bringing you and your users a more connected experience!