For the first time in a while, the FreePBX Engineering team has published a new Open Source module, the Missed Call Notification module. This module satisfies the request that comes up periodically in the FreePBX Community Forum to have the PBX generate a notification whenever a call to an extension goes unanswered. With this module, either the PBX admin or the user can configure email notifications for whenever they miss a call.
Installation
The module has been available for the past few weeks in Module Admin for FreePBX 16+. Installation proceeds just like any other module, simply browse to Admin → Module Admin, click the "Check Online" button, expand the "Missed Call Notification" section and follow the on screen instructions to install the module:

Once the module is installed, click the Apply Config button.
Admin Configuration
With the module now installed, a new menu entry will appear under the Applications menu which summarizes the Missed Call status for all the users on the system that have an email address defined in User Management: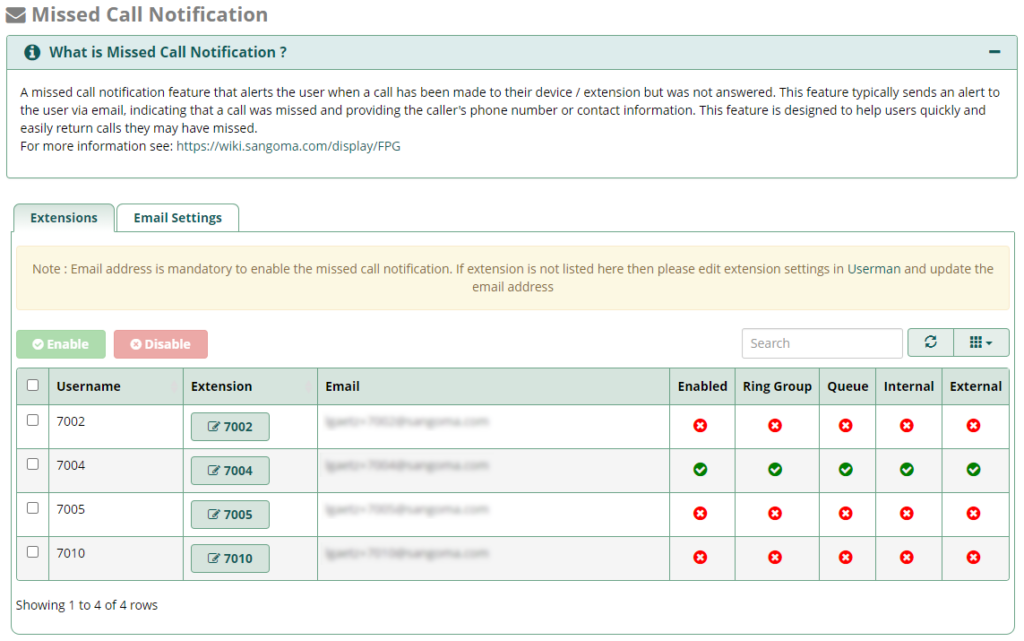 To change notification settings, the PBX Administrator can browse to User Management where they'll see a new tab when editing users and groups: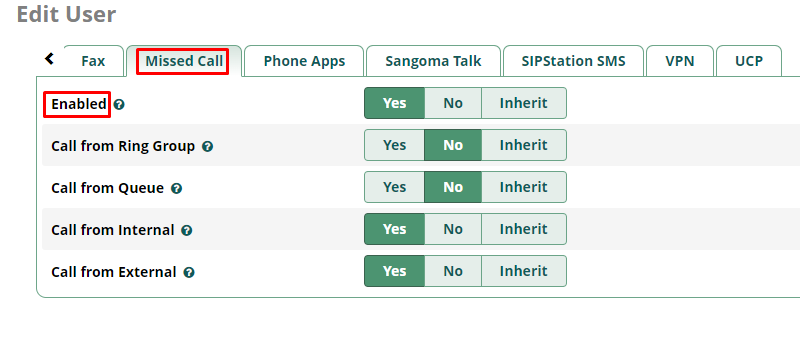 Configuration is pretty straightforward, the administrator can enable missed call notifications for the user or for the group, and toggle which of the call types will trigger a notification. Notably there are separate configuration options to enable calls coming from internal or external callers, ring groups or queues.
There is also an admin option in User Management to expose the Missed Call Notification widget to the user in UCP. This is done by browsing to User Management → edit user/group → UCP tab → Missed Call → enable/disable:

User Configuration
If the PBX administrator has granted access to the UCP widget to the PBX user, they will be able to add the Missed Call widget to a UCP dashboard. It looks like this: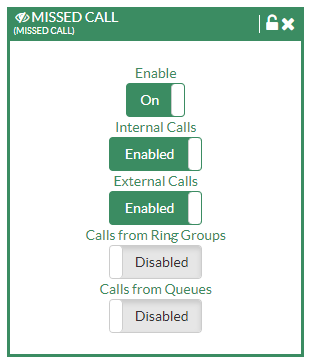 The UCP user has the same configuration options as the Administrator. Notifications can be enabled/disabled, and if enabled the user can select which types of unanswered calls will generate notifications.
There are also dialable feature codes to enable or disable notifications on a per-extension basis. Like all feature codes, they are configurable by the Administrator in Feature Code Admin, but by default these are set to:
Missed Call Notification Activate *56
Missed Call Notification Deactivate *57
Missed Call Notification Toggle *58
Conclusion
Go ahead and give the module a try. The module wiki page(s) can be found here. As with any new projects, there are likely to be minor issues or edge cases, so if you run into anything with your testing, let us know by raising a new ticket at the FreePBX issue tracker, or start a discussion on the FreePBX Community forum.